International Week
International Week
30 June 2017 (by brightside)
International week at Brightside School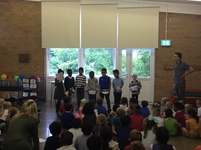 This week (26.6.17-30.6.17) has been International Week at Brightside School. Each year group chose a country to learn about. The reception children learnt about France, year 1 learnt about Greece and year 2 learnt about El Salvador.
The children enjoyed finding out about the different countries. They read books, tried food, looked at famous artists and learnt new dances and songs.
On Friday the pupils travelled around the different classes to experience aspects of each of the countries. They then had an assembly at the end of the day where they performed dances, songs and showed art work that they had been doing.
What a fantastic week they have had!