A visitor at Brightside
A visitor at Brightside
28 March 2019 (by brightside)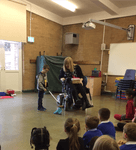 Yesterday, the children at Brightside School had a special visitor who came into their classrooms and assembly. They met Michelle, who came to speak to them about how she uses a wheelchair.
The children had the opportunity to ask some different questions to Michelle such as:
'Why do you use a wheelchair?'
'Can you still play sports?'
'How do you get dressed in the morning?'
'How do you pick things up off the floor?'
'How do you make your wheelchair move?'
Michelle was very impressed with the children's good behaviour and how they listened carefully to her when she was explaining.