Science
Curriculum intent
At Brightside Nursery Infant School, our science curriculum aims to stimulate and excite pupils' interests about the world around them. We strive to provide experiences that link practical experiences with key knowledge which will engage all learners and stimulate critical and creative thought. We plan first hand experiences, both indoors and outdoors to ensure high quality teaching and learning.
Our science curriculum aims to develop the pupils' knowledge, skills and understanding; enabling pupils to recall and apply sticky knowledge. The pupils are given opportunities to develop a wide range of skills in the different aspects of science: working scientifically, animals including humans, living things and their habitats, plants, seasonal changes and everyday materials and their uses.
We intend to provide all children with a broad and balanced science curriculum to enable them to make valid contributions to our Brightside community and the wider world, creating lifelong learners.
Implementation
The science curriculum is planned half termly using the objectives from the national curriculum framework. Medium term plans are used as working documents to identify time markers, additional resources needed and differentiation.
Click to view the following:
Science curriculum overview throughout school
Science language progression EYs
Science language progression in KS1
Key Knowledge and Skills progression Year 1
Key Knowledge and Skills progression Year 2
Early Years Foundation Stage
In the EYFS, the team plan together and use the curriculum guidance to provide differentiated activities and a balance between adult directed and child initiated activities. Science is planned for within the area of The Natural World.
Key Stage 1
KS1 long term plans show topics with an emphasis on science for Y1 and Y2.
Medium term plans are currently in place for the National Curriculum attainment targets. All topics are shown on the half termly overview. 'Working Scientifically' is described separately in the programme of study but is always taught throughout and clearly related to the teaching of substantive science content in the programme of study. Each year group teaches a science investigation every half term. Clear learning objectives are identified in child friendly language. Plans show differentiation, SEN and EAL provision, appropriate vocabulary, learning styles, key skills assessments and the use of ICT.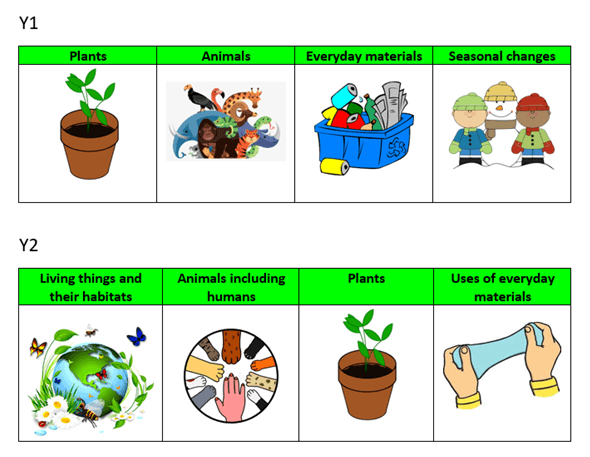 Additional science opportunities
After school club
Each year, during the Autumn term we offer an after school club to the year one children. This year we had a great uptake with 30 children attending!
We had great fun making our own ice-cream and exploding rockets!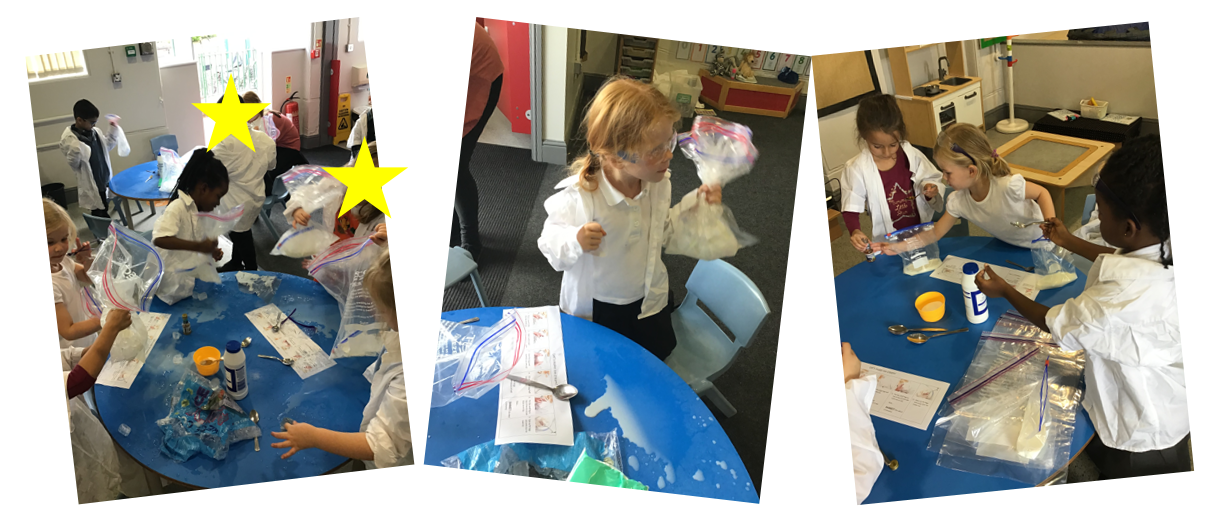 British Science Week
Every year the children participate in British Science Week. We use a book as a theme for the week, and all classes explore a different element of science linking to the story.

Here are some of the experiments we have done: