Yorkshire Wildlife Park Trip
Yorkshire Wildlife Park Trip
23 March 2018 (by brightside)
A fantastic day for the year 2 children!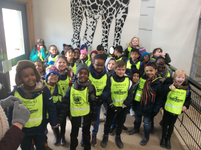 The year 2 children had a great day today at the Yorkshire Wildlife Park in Doncaster.
They spent the day exploring the park and looking at the different animals. They saw tigers, polar bears, leopards, lions and many more!! They even saw a baby wallaby that looked only a few days old.
The children had great fun trying out the different playgrounds and slides there as well. Some children were even brave enough to try out the super steep ones!!
A great day had by all. Well done year 2.