Reception beanstalks!
Reception beanstalks!
11 May 2018 (by Claire Staveley (Claire))
Look at how tall our beanstalks are...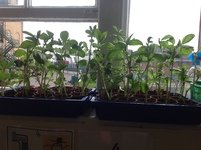 Reception have been learning all about growing. They planted their beans 3 weeks ago and have been watching them grow and change. We have watered them every day, and some have grown so tall they need sticks to keep them straight! Your child will be coming home with their beanstalk today, so please help them to re-pot them or put them in your garden so they can continue to grow. Thank you, the Reception team.