Y2 enjoy Science Week
Y2 enjoy Science Week
15 March 2019 (by brightside)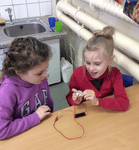 'The light in the lighthouse has broken! Can you help Mr Grinling to fix it?'
The year 2 children were given this problem as part of Science Week. They were given bulbs, batteries and wires and then they were challenged to make a circuit so that Mr Grinling's light could shine brightly once again.
The children brought in boxes from home and made lighthouses for Mr Grinling. They then attached their circuits to the lighthouses and switched them on! They were so proud when they worked.
Well done year 2 for completing the Science Week challenge!