Computing Club with Mr Morris
Computing Club with Mr Morris
28 March 2019 (by brightside)
Quiz Creators!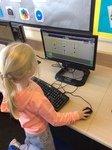 This week in computing club we have been creating our own quizzes for our friends to complete on purple mash. We created a variety of questions from mental math questions, guess who and snap. It was so much fun!
This was the last session of computing club but don't forget to keep using purple mash.
You have all been amazing !