Y2 Key Worker Bubble
Y2 Key Worker Bubble
15 July 2020 (by Ryan Morris (Ryan))
DT Week- Boat challenge!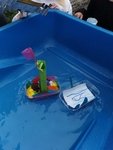 This week in the Year 2 key worker bubble we have been learning about DT. We had the challenge of designing and making a boat that would sail just like the one Christopher Columbus used.
First we looked at different types of boats such a speedboat, cruise ship and canal barge. We then learnt the names of their parts such an anchor and mast before designing our own boat. We Planned to use as many recycled materials that we could find such as cardboard tubes, cardboard boxes and plastic cartons.
After we designed our boat we wrote instructions on how to make it so we could follow it to make our boat successfully. After we made our boats we took them outside and tested to see if they would work. Great work Y2!