The First Award Table
The First Award Table
11 September 2020 (by brightside)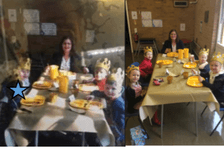 Well done year 1 and year 2 for a great full first week back at school! To celebrate, their teachers have chosen some children to sit on the Award Table at lunchtime with Mrs Mercer. Here are just some of the reasons why their teachers are proud:
*for settling into school really well
*for working independently
*for trying hard in everything in they do
Keep up the great work! Certificates will be emailed out to you.
I wonder who will be on Mrs Mercer's Award Table next week.