Brightside on Bikes!
Brightside on Bikes!
9 June 2021 (by John Webber (John))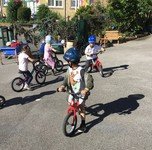 On Wednesday morning 7 Reception children enjoyed learning cycling skills and built their confidence on two wheels using our lovely balance bikes.
The sessions will be happening every Wednesday morning from 8.15 to 8.45 this half term and all Reception children are welcome to come with a parents or carer. At each session children will be able to work through a progression of activities specially designed to improve their balance and cycling ability in a safe environment.
Please come next week and join in the fun!