Reading challenge update!
Reading challenge update!
10 June 2021 (by brightside)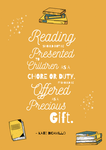 Here are the reading challenge results for the week we broke up for the half term holiday (w/e 28.05.21)
Class 7 - 51
Class 10 - 40
Class 2 - 16
Class 5 - 53
Well done to class 5 who are the overall winners! We will announce the prize very soon!
Well done to all and don't forget to email year1@brightside.sheffield.sch.uk or year2@brightside.sheffield.sch.uk to let us know very week how many times your child has read!
Happy reading!