Award Table News
Award Table News
10 September 2021 (by brightside)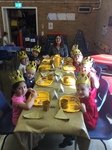 We are so proud of how all of the children at Brightside have settled back into school this week!
The children have shown excellent behaviour and have been trying hard in all areas of their learning.
Here are some children celebrating their fantastic learning with Mrs Mercer on the Award Table today.
Keep up the great learning! Well done.