Online Safety at Brightside School
Online Safety at Brightside School
7 February 2019 (by brightside)
Keep Safe Online!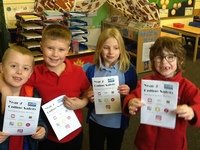 The children at Brightside School have been learning how to stay safe online this week.
We began with an assembly on Monday morning where the children shared what they liked doing online.
The children explained how they enjoyed watching YouTube and playing games online.
The children have then been learning about how to stay safe online throughout the rest of the week through reading stories, watching video clips and participating in discussions. These are just some of the ideas they shared to keep safe:
*tell their parent/carer if there is anything that they don't like
*using the correct spellings when searching on Google and YouTube
*keep passwords private
*no talking to strangers online
*being kind when they are talking to friends online
*not sharing personal information such as their real name, address, school, phone number
Finally, we had a parent/carer workshop today where the children could work with their grown up on online safety activities in classes. The NSPCC also spoke to parent/carers in the hall afterwards about how to support children in staying safe online.
For more information, please use these links:
https://www.nspcc.org.uk/preventing-abuse/keeping-children-safe/online-safety/