Award Table News
Award Table News
6 September 2019 (by brightside)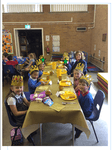 Welcome back!
The children have all had a fantastic three days settling into their new classes. We have celebrated their success this week with the first of Mrs Mercer's Award Tables.
Here are just some of the reasons why the teachers were proud:
for always putting their thumb up and contributing to a discussion
for settling well into their new class
for trying hard with their maths work
Keep trying hard! I wonder who will be on the Award Table next week!