Granny Norbag visit!
Granny Norbag visit!
28 November 2019 (by brightside)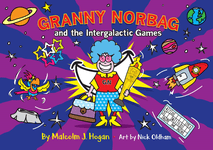 Today, the children in year 1 and year 2 had a visitor in assembly. Malcolm J Hogan who is the author of the Granny Norbag books came to visit! He introduced his newest book 'Granny Norbag and the Intergalactic Games' and showed the children a video of Granny Norbag having fun. He also brought Granny Norbag in to talk to the children!
The children loved hearing all about Granny Norbag's latest adventures! We have copies of all of the books in our school library for you to borrow.